All indoor/outdoor sports activities and practices are cancelled for tonight, Wednesday June 15th.

Varsity Baseball team won today!! We play Britton-Deerfield on Saturday, June 11 @. 10:00am. Game will be at Kalamazoo College. Go Tigers!

Varsity Baseball game scheduled for today @ 4:30 has been postponed until Thursday, 6-9-22 @ 4:30.
There will be a regular Board of Education meeting on Monday, June 13, 2022 starting at 6:00 p.m. in the MS/HS Library
Notice of Public Hearing on Proposed 2022-2023 Budget. PLEASE TAKE NOTICE that on June 13, 2022, at 5:45 o'clock p.m., at Gobles MS/HS Library, 409 N. State Street, Gobles, Michigan, the Board of Education of Gobles Public Schools will hold a public hearing to consider the District's proposed 2022-2023 budget. The Board may not adopt its proposed 2022-2023 budget until after a public hearing. A copy of the proposed 2022-2023 budget, including the proposed property tax millage rate, is available for public inspection during normal business hours at the Superintendent's Office, 409 N. State Street, Gobles, Michigan and available online at:
https://www.gobles.org/page/board-of-education
. The property tax millage rate proposed to be levied to support the proposed budget will be a subject of this hearing.

Varsity Baseball Regional Semifinal is on Wednesday, June 8 @ 4:30. Gobles vs Michigan Lutheran at Kalamazoo College. Tickets are $9.00 and must be pur- chased on GoFan.co. GO TIGERS!
Congratulations to Eli Stender for winning the Michigan Division 4 State track discus today. Eli threw 122'9", a great day to be a Tiger!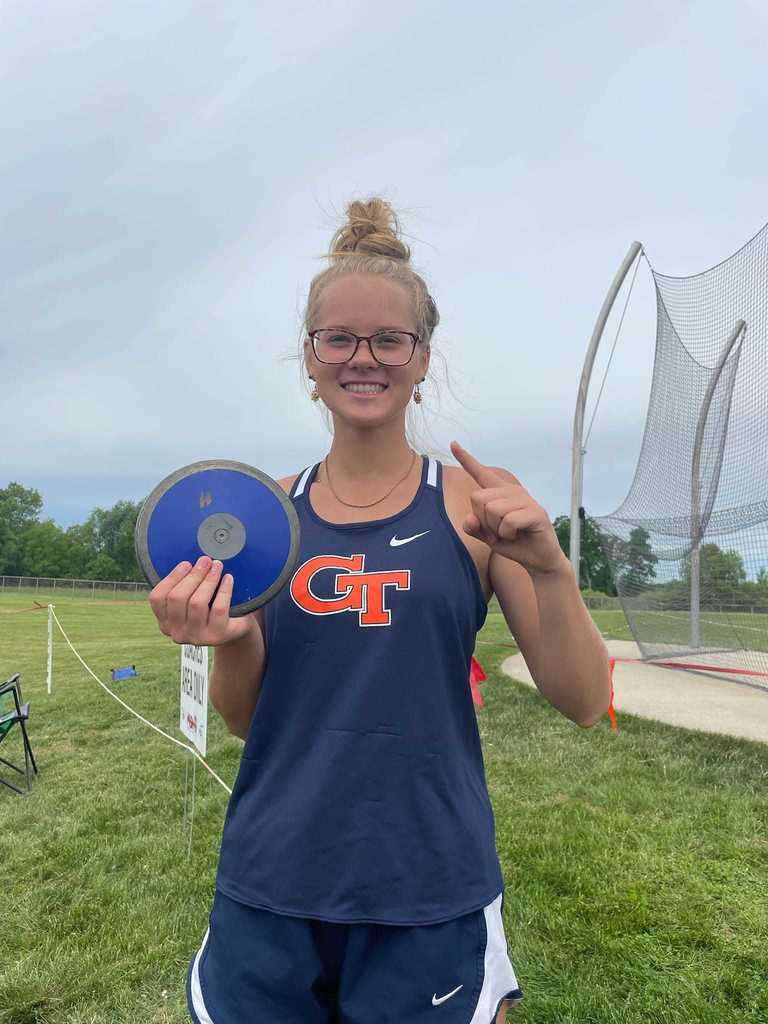 Next Week: Half Days June 6th, 7th & 8th; MS/HS released at 11:00, Elementary released at 12:00. Last Day of School is June 8th! Enjoy your summer Tigers!

MS baseball and softball @ Gobles are cancelled for Wednesday, May 25th.

Varsity softball/baseball @ Lawton on Saturday, May 21st are cancelled.
NHS Advisor, Carrie Butler, would like to announce that Emily Baxter has been granted a $250.00 scholarship from the American Red Cross. As NHS president she was instrumental in organizing all of the year's service projects, but especially helpful with all of the tasks that go along with planning a blood drive. At the last Red Cross Blood Drive, we surpassed the goal that the Red Cross set for us; that was due to good planning, good timing with publicity, and good organization. "Emily was always ready and willing any time I notified her that we had to kick into gear and start checking off tasks," said Mrs. Butler. She also stated that she is positive Emily will use her leadership skills as she enters her adult life and is so pleased to be able to honor her efforts with this scholarship. Congratulations Emily!

Middle School softball/baseball games on Saturday, May 21, 2022 @ Gobles are cancelled.
There will be a Board of Education Special Meeting on Monday, May 23, 2022 at 6:00 p.m. in the MS/HS Library.

JV softball, MS softball & MS baseball games are all cancelled for Wednesday, May 18th, due to weather.

MS baseball & softball games are cancelled for Saturday, May 7th. The fields are wet!

Saugatuck has cancelled MS track for tonight, Tuesday, May 3rd.

Varsity baseball & softball games are cancelled tonight, Tuesday May 3rd due to weather. Lawton will travel to Gobles on Thursday, May 5th.
Gobles Public Schools has three Board of Education positions on the November 8, 2022 election. Nominating Petition and Affidavit of Identity can be obtained by the Van Buren County Clerk's Office. All candidates must submit their Petition and Affidavit of Identity to the County Clerk's Office by July 26, 2022 at 4:00 p.m.