FAFSA Workshop , Tuesday, October 25th from 5:00-7:00 PM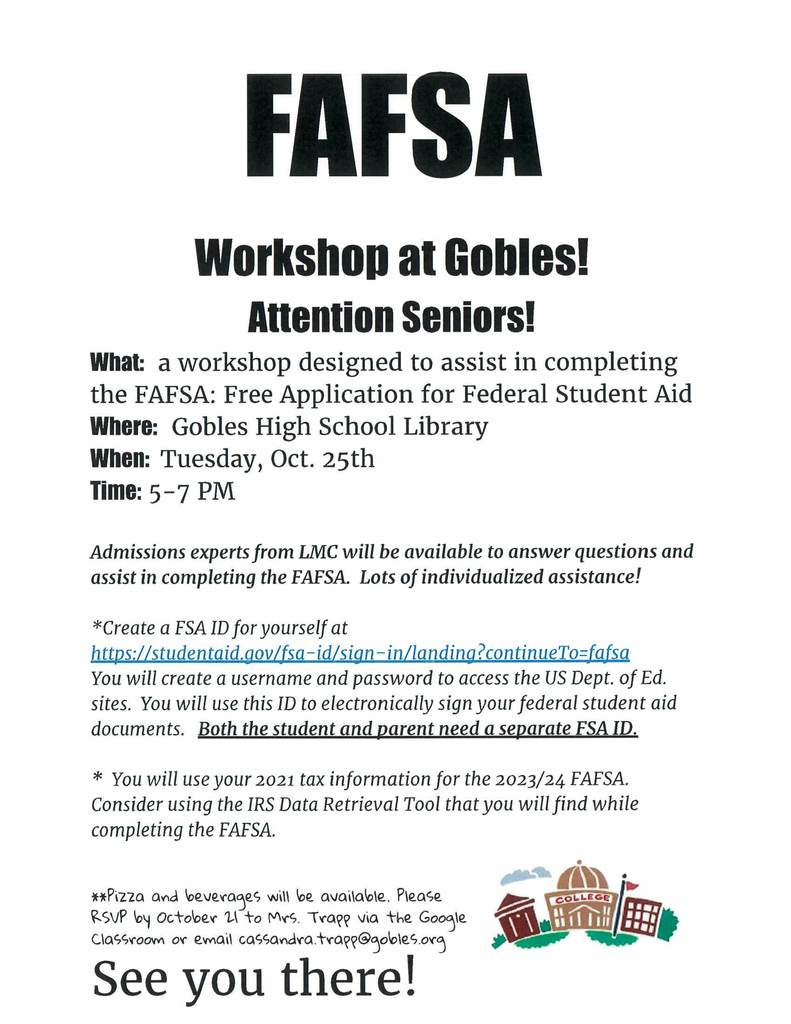 Homecoming 2022 activities! Pigs Head BBQ food truck will be in the football parking lot from 5-7 pm. Grad Bash Carnival from 5-7 pm and homecoming parade starts at 6:00 pm!
5th Annual Derek Jackson Memorial Golf Outing! Saturday, October 1st at Shamrock Golf!

TIME CHANGE: The MS football game at Lawrence on Wednesday, September 28th will now start at 6:30pm. This change is due to a lack of officials for a 5:00pm start time. We are sorry for any inconvenience this may cause. GO TIGERS!

Come join our amazing Team at Gobles Public Schools. Please visit our employment page at
https://www.gobles.org/page/employment
K-5 Paraprofessional/Library Aide High School Robotics Coach ESports Club
It has come to our attention that some parents are using the old phone number that is no longer in service to call the school. Please make sure you have the updated phone number. Elementary office 269-628-9440 , Elementary Attendance Line 269-628-9441 , MS/HS office & MS/HS Attendance Line 269-628-9340, Transportation 269-628-9343 / 269-628-9401, Athletics 269-628-9394, Food Service 269-628-9447 & District Office 269-628-9390.

MS Football is canceled tonight, Tuesday, Sept. 20 due to weather. Our MS Football team will travel to Fennville to play on Thursday, Sept. 22 @ 4:00pm

Monday, September 19, 2022, our MS volleyball plays at Allegan @ 5:00pm. Online purchase is their preferred method of payment.
https://alleganps.org/tickets

Please support Gobles Middle/High School Student Council by dropping off your Village Market receipts in the box labeled by the front window near the front doors of Village Market, or dropping them off to the Middle/High School office. We use the proceeds toward field trips, classroom needs and supplies, student needs, school activities, and other needs that may arise during the school year. Thank you for supporting your community and our students at Gobles Middle/High School!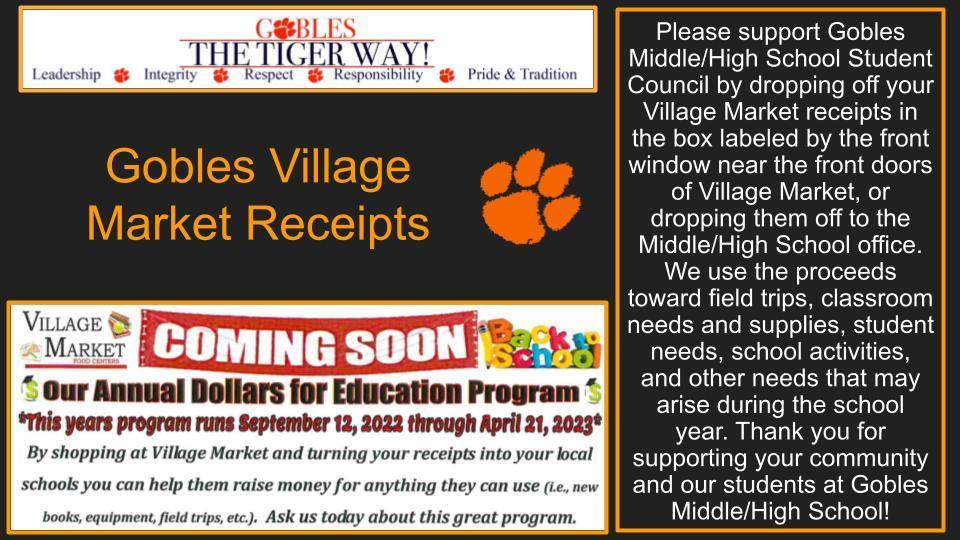 EARLY RELEASE DAY, Wednesday, September 14th. Early Release Schedule: Elementary Students Schedule- Start time 8:30 a.m. End time 12:00 p.m. MS/HS Students Schedule- Students will be released at 11:00 a.m. Students attending the Technology Center will attend as if a regular scheduled day & will return back to the school at 3:00 p.m. Early Release Bell Schedule Middle/High School Hour Time 1st 7:30 a.m. - 8:00 a.m. 2nd 8:05 a.m. - 8:30 a.m. 3rd 8:35 a.m. - 9:00 a.m. 4th 9:05 a.m. - 9:30 a.m. 5th 9:35 a.m. - 10:00 a.m. 6th 10:05 a.m. - 10:30 a.m. 7th 10:35 a.m. - 11:00 a.m.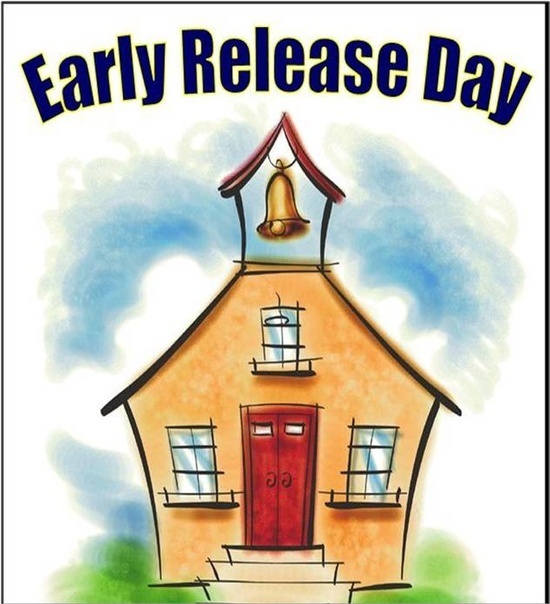 The City of Gobles will be accepting applications for the position of Crossing Guard for the 2022-2023 school year. Applications are available at the Gobles City Hall, 105 E. Main St. Gobles, MI, during regular business hours and will be accepted until the position is filled. 2 1/2 hours per day - $15.53 per hour . Please call city hall at 269-628-2246 for more information. The City of Gobles is an Equal Opportunity Employer.

Middle/High School August letter to students, parents/guardians, and community members. Includes information about Chromebook distribution, school pictures, Tiger Bash, and the first day of school.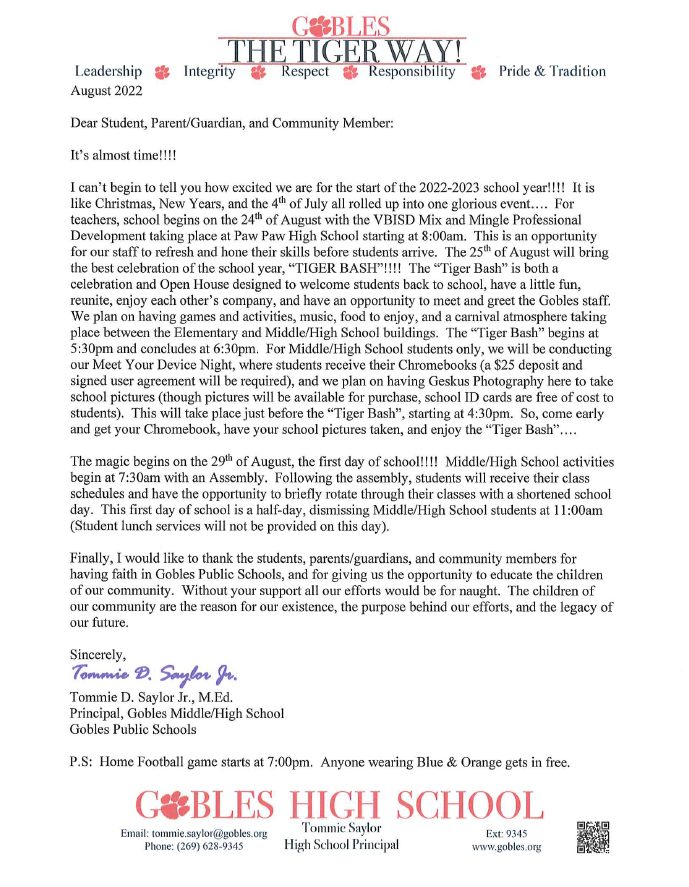 Elementary teachers will send notes home to students letting them know their teachers for the 2022-2023 school year the week of August 15, 2022! Can't wait to see everyone soon!

Middle/High School summer letter to students, parents/guardians, and community members. Includes information regarding "Tiger Bash", school pictures, Chromebook distribution and more.