Gobles Voltage Robotics
Team 5194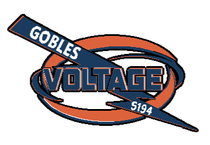 About us
We are a small team of 12 people with two team leaders and a parents club who have worked very hard to support their children in making amazing robots. This is our fifth season as the Gobles Voltage Robotics Team.
District Meets
Gull Lake 3/16 - 3/17
Kentwood 3/29 - 3/31
About the Game
FIRST Robotics holds a different competition theme each year. Each competition has different obstacles and objectives that the robot has to be built to achieve. This year's game is called FIRST Power Up. Three school teams join in an Alliance to work together and get power cubes into one of the two goal areas - the scale in the air or the switch on ground. Another option is to place your power cubes into a power up slot. The three power up slots are levitate, boost, and force to get an advantage. The winner at the end of the match defeats the boss!