Leo Hunt Memorial Scholarship
Leo Hunt graduated from Mattawan High School where he earned letters playing football, basketball, and baseball. After high school he played basketball and baseball for the Kalamazoo City League until joining the United States Army to serve in France, Belgium, and Germany during World War 2.
Leo became a Gobles resident in 1957 and became active as a spectator and coach. He served as assistant varsity baseball coach for Gobles for 35 years, and in 2004 was awarded the Michigan Assistant Baseball Coach of the Year by the Michigan High School Baseball Coaches Association.
Leo also assisted in the football program and in 2003 was awarded the Michigan Assistant Football Coach of the Year by the Michigan High School Athletic Association. From 1972-1990 he served as president of the Gobles Athletic Booster Club.
In 1991 Leo was inducted into the Gobles High School Athletic Hall of Fame and the baseball field on the Gobles High School campus was named after him in honor and recognition of his many years of service and contribution to programs at Gobles High School.
The Leo Hunt Memorial Scholarship was established by his family in 2014, with first awards designated to be given to students during the 2015 graduation season. It is intended to recognize and reward Gobles student athletes who participated in sports with the same love of sports that Leo enjoyed all his life.
Selection Criteria
The Selection Committee will look for candidates who best represent the following qualities:
Outstanding citizenship as a student and member of the Gobles community;

Outstanding sportsmanship as a student athlete;

Respect for others and for the spirit of the game;

The display of work ethic and dedication;

Participation in athletics for two or three seasons each school year during high school.
Selection Committee
The selection committee for the first year of the scholarship will consist of at least one member of the family, one Gobles community member who coached with or played for Leo (if possible; if not the current varsity baseball and softball coaches at Gobles High School), and the Gobles High School Athletic Director
Congratulations to Kylee Mandigo and James Sandahl, the 2019 recipients of the Leo Hunt Memorial Scholarship.
Past Winners
2023 Jaiden Woodard, Gavin Hancox
2022 McKenzie Lisowski, Nile Devers
2021 Karlee Henderson, Gabriel Miller
2020 Caleb Brady, Libbee Nason
2019 Kylee Mandigo, James Sandahl
​2018 Peyton Austin & Samantha Winne
2017 Katerina Copper & Tyler Hunt
​2016 Devon Gildea & Haley Rock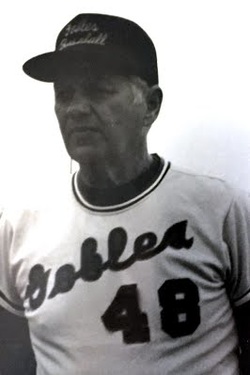 Coach Leo Hunt