Chad Ferry Memorial Scholarships
The Ferry Family Memorial Scholarship was named after Chad Ferry and Sharon Ferry, community members from the Ferry family whose lives were ended tragically, and far too soon.

Chad lost his life in a car accident in the summer of 1988, a few months before he was to enter his senior year at Gobles High School.

Chad is remembered as a kind young man, quiet and respectful, who always had a smile on his face, until it was game time, and then he was a fierce competitor who would do whatever he could to help his team get the win. He is remembered as a consummate teammate, and a Gobles Tiger through and through. During high school Chad was a member of both the basketball and baseball teams, and in his spare time loved to be outdoors, fishing or just spending time on an area lake.
Scholarship Criteria
The year after Chad's death, a scholarship was established in his memory, to be awarded to a senior who meets the following criteria:
The student must have attended Gobles Public Schools for at least two (2) school years;

The student must have a G.P.A. of 2.0 or higher;

A realistic future plan for their education must be described in the application;

The financial need to the student may be considered;

Good citizenship will be important;

As long as the endowment will provide it, two scholarships will be awarded- one for a male student, one for a female student;

Participation in extra-curricular or co-curricular activities will be carefully examined. Successful participation in athletics as well as other school activities demonstrates effort to learn and the ability to achieve. Participation in many activities will be viewed more favorably than leadership in a single activity.

Congratulations to James Sandahl, the 2019 recipient of the Ferry Family Memorial Scholarship.
Past Scholarship Recipients
2022 Preston Zantello
2021 Dylan Schafer
2020 Conor Buchkowski
2019 James Sandahl
​2018 Kayla Ferry
2017 Tanner Smalley
2016 Mollee Nason
2015 Alexis Boes
2014 Brooklyn Wiseley
2013 Tyler Pasek
2012 Eric Nolan James
2011 Angel Treviño
2010 Olivia Danielle Sawicki
2009 Roxanne Elaine Morris
2008 Jessica Lynn Axe; Derrick Mathew Zaczek
2007 Joy Nicole Vosburg; Jaime Mae Ehrmann
2006 Melinda Marie Poffenberger
2005 Lindsay Jean Fry
2004 Adam James Covey
2003 Erin Elizabeth Allen; Aaron Joseph Richmond
2002 Amber Faye Goodwin; Amelia Anne; Thompson Martin
1993 Mr. Adam Osmun; Ms. Christiana Rohall
1992 Mr. Rich Murawski; Ms. Kristen Smith
1991 Mr. Craig Stiles; Ms. Heather Grimes
1990 Mr. Jason Boyer; Ms. Lori Harbolt
1989 Mr. Brian Johnson; Ms. Shari Westcott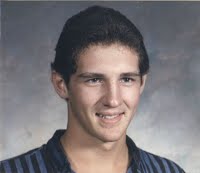 Chad Ferry (1971-1988)