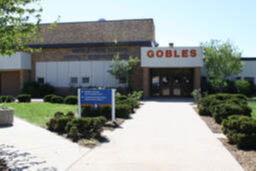 Gobles Virtual Academy is now accepting applications for the 2022-2023 school year. Applications are due May 27, 2022. Please contact the Gobles Middle High School office or Mrs. Seiler to request an application packet.
​What Can We Offer?
​Gobles Virtual Academy offers parents and students a flexible and powerful way to take an entire K-12 school curriculum, and to earn a high school diploma that fully satisfies the requirements of the Michigan Merit Curriculum. High School students can choose from a comprehensive range of core-curriculum courses, including Advanced Placement (AP) courses for college-credit, or traditionally-paced courses, world languages, and dozens of electives that range from computer programming to art, physical education, music, business, creative writing, and many, many more.
Students enrolled in the program will be able to take advantage of the support of local teachers and mentors, and a full range of resources and opportunities, such as participation in extra-curricular activities and athletics.
GOBLES VIRTUAL ACADEMY NEWSLETTERS​
Frequently Asked Questions (FAQ)

1. If a student graduates from the Gobles Virtual Academy program will they actually receive a Gobles diploma or does the student only receive a certificate of completion?
Students receive a fully endorsed Michigan Merit Curriculum diploma so long as they take the required MME exam and complete all graduation requirements.

2. Are there textbooks that go along with the curriculum?
Most courses use online content and/or online textbooks. Some courses do require a physical textbook.

3. Is there a minimum amount of time the student must be online for the program?
Online courses are similar in rigor to traditional courses at Gobles. Students can expect to work actively on line 4-5 hours per week per class with additional study time as needed.

5. If a student is having difficulty in a subject area, is there help available?
All online courses offered by Gobles Public Schools are taught by certified teachers to assist students with course content. In addition, a mentor teacher will be available by email, phone or appointment for questions related to online content.

7. Approximately, how long does it take to complete one course?
Online courses are one-semester courses however, based on a student's skill level, knowledge, and work habits,they may finish early.

8. Is a Virtual Academy student eligible to try out for a Gobles sports team?
Yes. Virtual Academy students must meet the MHSAA criteria for participation in interscholastic athletics.

9. Are online courses easy? No. Web-based instruction is very challenging and time intensive. Students should expect to spend a similar amount of time and effort with online courses as traditional classes.